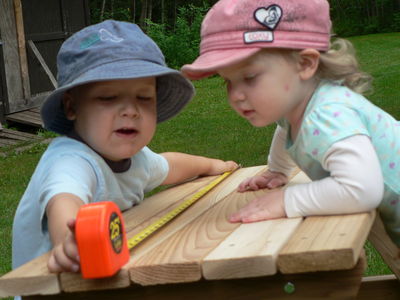 The table is kid size.
That was Bode's comment today after we finished putting the picnic table together. Bode got it last year for his birthday from grandma and grandpa but it took us a while to get that project done. I had started it on Bode's birthday 2 weeks ago, ran out of time, and then Aaron finished it up today. Courtney rushed over to it and both kids were enjoying it. It'll be the right size to move into the screen house for eating dinner. Getting bear bait, putting more stones around the fire ring, pushing around gravel and other miscellaneous tasks filled up the weekend.
Two weeks ago when we were up, we didn't get a lot done at the land, but that was ok. We had gone to Duluth on that Saturday to the air show. Both kids had a good time and Bode really liked getting to sit in the pilot seat of several airplanes. The rain during the Blue Angels performance at the end was a little disappointing, but it was a great show. Afterwards we went to Taste of Saigon with some friends for dinner. One of the guys working there liked to rub the top of Bode's buzzed head! Bode didn't seem to mind. Both kids were really well behaved and got to get a treat from the candy store across the hall afterwards. We went and stood under the bridge for moment since Bode loves it so and then we headed home. We picked up pizza and an ice cream cake on the way into town and had a small celebration before bed. As I was getting things ready in Courtney's room, I told Bode to not bring his skis (his present he had just opened) into Courtney's room. I turned and saw it was Courtney bringing Bode's skis into her room! She then started standing on them. I'm hoping that excitement carries through to winter.
Leave a Reply
You must be logged in to post a comment.