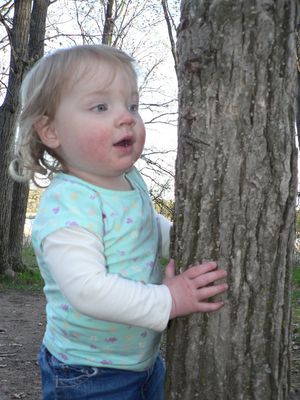 Courtney loves to be outside.  She spent Memorial weekend enjoying being dirty in the woods.  We headed up to Mille Lacs Kathio State Park on Friday afternoon.  We were the first ones to arrive at the group campsite.  We set up the tent and cooked hotdogs over the campfire.  Natalie and her family and Zach and his family arrived later.  We enjoyed a relaxing night sitting around the campfire catching up with friends.  The kids loved sleeping in the tent and went to bed without too much difficulty.
The next morning we had breakfast and headed out for a 3.2 mile hike with all the kids.  Courtney was in the backpack carrier and Bode was a trooper.  We saw a porcupine waddling through the woods.  Jackson danced across the path when he saw a little snake.  We even saw a bald eagle.  Deer were spotted earlier and ticks were overly abundant.
After lunch, Ryan and Rebecca showed up.  We took the kids to a tree detective program at the park and then enjoyed some time at the playground.  Later we climbed the fire tower.  Most of us went all the way up.  Bode was a trooper again for that.  I think his legs were pretty tired at the end of the day.  Dinner got cut short a bit with an unexpected dog bite  (not our dog), but Jackson is doing well.  Check out Zach's blog for the healing pictures.  That put a bit of a damper on the evening.
In the morning, we packed up and headed to Moose Lake.  We went to visit Aaron's aunt and uncle and found his cousin's family there.  Brent and Aiden came out to help move the camper and go 4-wheeling with Aaron and Bode.  They had a blast.  We got most of the remnants of the nasty old green camper cleaned up.   It's cleared down to dirt in the area and ready for gravel to be delivered.  The plan is to make a nice gravel pad for the camper in the spot that overlooks the river.
On Monday, we headed home in the afternoon with tired and dirty kids.  They had a blast during the weekend and slept nearly all the way home.  We made it in time to pick up the dogs from the kennel by about 2 minutes.  Now it's time to keep the laundry going and catch up.  I think I'll stay home this weekend and relax!
Leave a Reply
You must be logged in to post a comment.