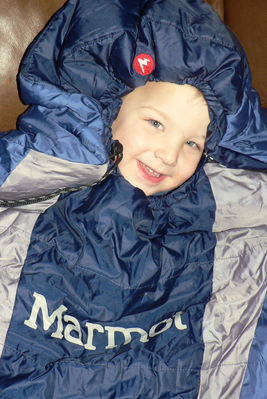 We just got back from skiing in Utah.  That typically signals our wind-down to winter.  Yet again it's true.  Although it's kind of sad to be ending ski season, camping season is coming.  For us that means camper camping up on our land with satellite tv and microwave.  It also means tent camping.  We got a Campmor catalog in the mail last week and now we're drooling.  Courtney hasn't experienced a tent yet and it looks like her time is coming.  For the past several years we've planned a weekend of camping, usually around Memorial Day weekend with Aaron's college roommates.  We usually head north and hang out with kids, dogs, marshmallows and college stories.  The talk for this year has started.  Now back to that catalog.  We found a good deal on a nice 20 degree kid's mummy style sleeping bag.  We ordered it up for Courtney.  Bode has a nice mummy sleeping bag that he got a couple years ago from my cousin Rachel since Alex is waaaaay too big for it now.  Aaron found a good deal on a 6 person (gotta have room for the dogs too) tent that he'd been looking at.  He hasn't bought it but I can tell he's tempted.  Right now we're thinking we might have to set up 2 of our smaller tents to fit us all.  We can't seem to remember if we bought a 4 person tent or only a 3 person one last.  Either way, I'm pretty sure there wasn't a lot of extra room last time.  We'll see what happens.
The stores have started putting out gardening supplies.  Now that Aaron owns a tractor, I think we'll be farmers.  Ha!  I don't think he has any implements for it…yet.  I plan to grown my cilantro in a container at home, but we also bought some "shrubs".  These shrubs are blueberry, raspberry and blackberry.  Yum!  We have some raspberry bushes on our land already but we want to add to them.  Couldn't resist the package of plants at Sam's Club. 
Leave a Reply
You must be logged in to post a comment.