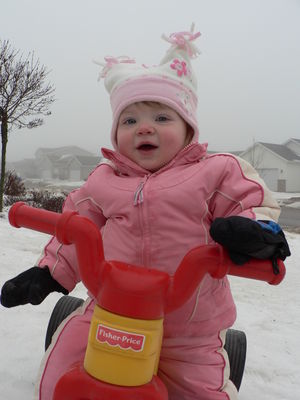 Who says winter is no fun?  It takes a little longer to bundle up (sometimes longer than we stay outside), but they love it.  We tried to build a snowman with Bode, but the snow wasn't any good for that.  It had gotten crusty.  Aaron tried anyway and ended up shoveling a snow mound in the middle of our front yard.  Bode called it a snowman.  It was more like a snow blob.
We've been trying to get Courtney to walk with us when we take the dogs for a walk.  She'll do a little bit in her boots outside but usually asks to get carried after a couple of houses.
Bode has been out skiing a few times this season.  I took him out last Sunday.  I didn't have much luck getting him to try without the harness and leash on, but he enjoyed going down the hills.  We were going down a hill at the end of the night and I could hear him singing up ahead of me.  That surprised me, but I love that he's that relaxed.  He said he was singing the clock song.  (It goes "ding dong ding dong…")  He is fun to ski with, but we both get tired fairly easily from the work that it takes.
Leave a Reply
You must be logged in to post a comment.