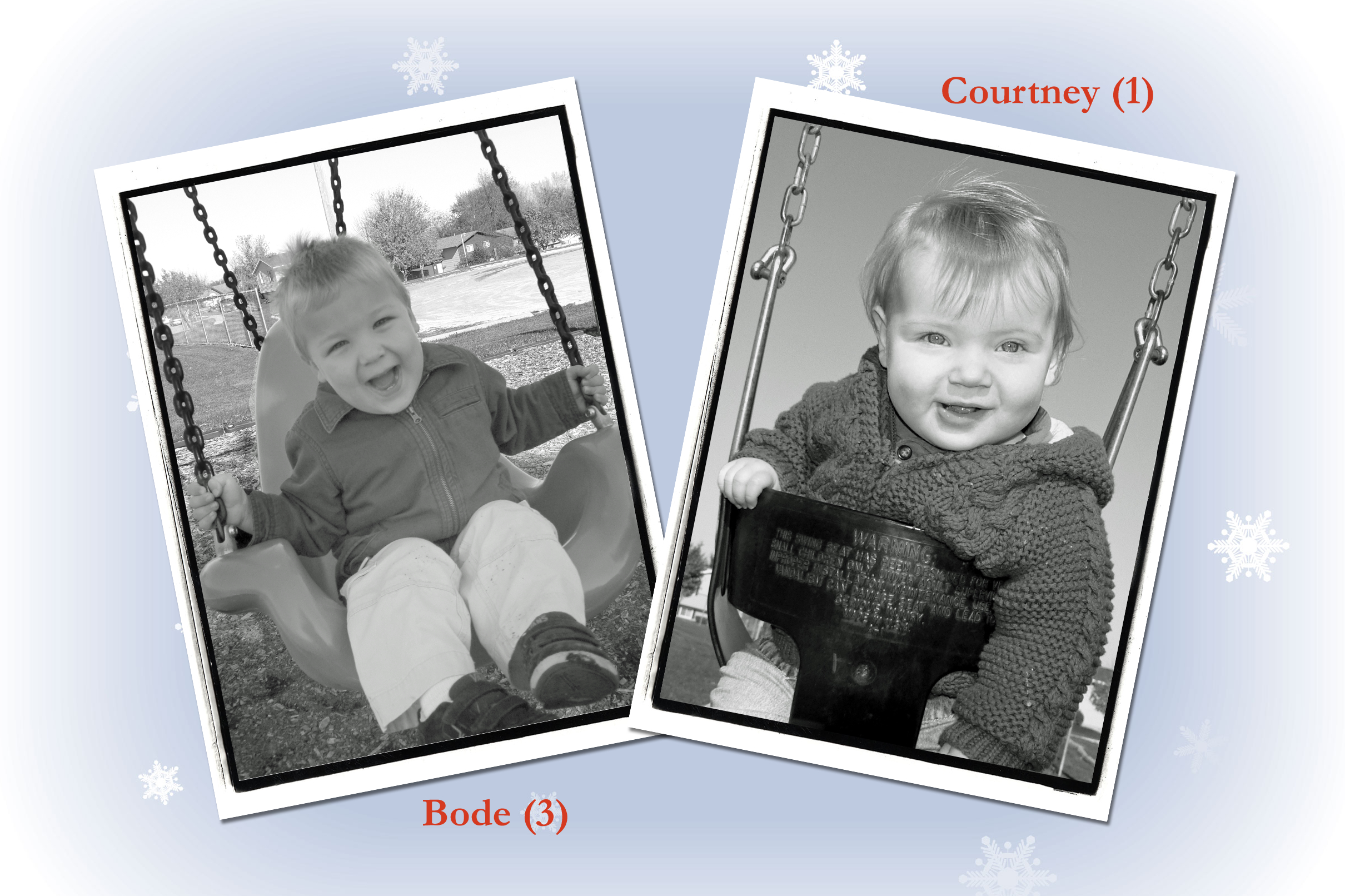 Welcome to the Hislop family Christmas letter.  We hope you're having an enjoyable holiday season so far.  It's been cold and snowy…just what we love.
We started off the year with a bang.  In January, Aaron went up to Moose Lake to check out a land auction with his uncle.  We've always talked about having some land in northern Minnesota some day.  Although Aaron said there was a 98% chance that he was just wasting his time, he went up to get a feel for how these things worked.  He called me later in the day to say we were now the owners of 145 acres of property, including 2 trailer homes, a bridge and 900 feet of river frontage.  In February, we went up with the kids and got to see what we really bought.  We drove 4-wheelers around in the snow and checked out the property.  We parked our camper up there in the spring and spent a lot of weekends there with the kids.  Aaron spent a few more without us working on projects and mowing the lawn.  Bode loved hiking, fishing and stomping through puddles.  Courtney rode around in the front carrier and graduated to the backpack.  The camper was a little small with the pack n play, 4 people and 2 dogs, but it was a good time.  Wednesday and Pugsley loved having freedom to run in the woods.  Talk about a couple of dirty dogs!
Ski patrol at Welch Village still fills our Saturday nights during the winter months.  In February, we made a trip out to Utah.  Aaron and I got some skiing while grandma and grandpa watched the kids.  Although he didn't get to ski in Utah, Bode got 10 days of skiing last season.  He already has 2 days this season.  He loves riding the chair lift and listening to the wheels squeak.  It's wonderful to have him interested in skiing.  Hopefully, we can get Courtney at least 1 day by the end of the season.  She's been walking for a few months and should be a little steadier and stronger by then.  It could get really interesting next year with both kids. 
In August, we took a road trip with the kids out to Island Park, Idaho.  We spent a week with Aaron's family vacationing in the Yellowstone area.  It took a little bit of time, but we eventually saw plenty of animals at the park…grizzly bears, elk, moose, bison, antelope and more.  We visited the popular spots, such as Old Faithful, but one of our favorite memories is a short little hike behind the Roosevelt Lodge where we walked to a waterfall and found wild raspberries along the trail.
Although busy with a lot of projects this summer, Aaron managed to squeeze in 2 days of skydiving for a total of 15 jumps.  That's not much, but he plans to get serious with a team again next year.  I've yet to decide whether I'll be jumping then or not.  I went to Duluth for the NorthShore Inline Marathon in September.  It was 27 degrees when I headed there that morning.  There was also a vicious headwind the whole way.  It wasn't the best of conditions, but I finished it and then proceeded to sign up to do it again next year!  Aaron watched the kids while I went and did that and then went hunting as soon as I was back.  Hunting and preparing for hunting was a big activity this fall.  Aaron got a lot of help from his uncle when it came to baiting bears.  He hunted for bear, deer, grouse and woodcock.  No new animals for the walls this year!
It's been fun to watch the changes in the kids throughout the year.  Courtney has gone from a little pipsqueak who didn't crawl yet to a walking girl who is starting to talk and let's her opinion be known even without words.  Bode's language has been the major change in the past year.  We're really enjoying having conversations with him now.  He says the funniest things.
Another year has come and gone.  For those of you that we've seen this year, I hope we'll be able to spend time again next year.  For those who it has been a while, maybe the upcoming year will bring us together.  We wish you and your families the happiest of holiday seasons.  Stay warm and enjoy each other!
The Hislops
Leave a Reply
You must be logged in to post a comment.