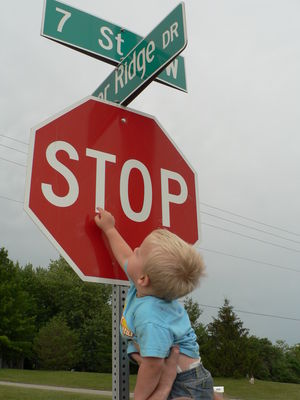 Bode has been obsessed with stop signs for a while now.  He points them out everywhere as we're walking or driving.  He wants to touch them and will even hug them.  We draw stop signs all over the driveway with chalk and he runs around stopping at them.  After stopping, we get to go.
He also loves the "little green road signs" that he sees everywhere, but stop signs really are a favorite.  I picked him up at daycare last week and found him playing with a toy stop sign in a play microwave.  He even has stop sign stickers that he's been getting as a reward.
Maybe he'll grow up and have a career in law enforcement, transportation or civil engineering.  Or maybe he can hold the stop sign in a construction zone!
Leave a Reply
You must be logged in to post a comment.