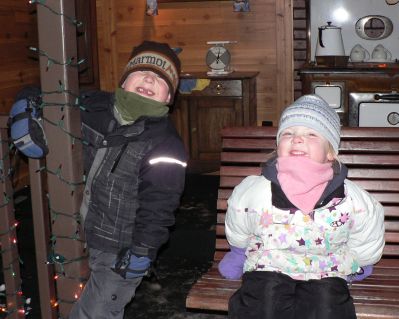 You may have thought the houseofhislop.com site died, but it didn't. Although I haven't posted in a year, there have been new photos added occasionally…at least until August. I've put new winter pictures over in the photo album again. I think I'll see if I can start putting updates on here again. A lot has happened since then, but let's just start out here…
The kids have been busy with swimming lessons and hockey. Between the two, we spend a lot of time at the Rec Center. It's a lot of fun to see the kids enjoying themselves and growing their hockey and swimming skills. Maybe this summer Bode will be up for trying the waterskis!
Since Bode is out of school this week, I stayed home with him yesterday. We put together the gingerbread house that Santa brought. He snuck a few tastes along the way and is enjoying eating it piece by piece now. He says it was the best present he got. 🙂 He also just put Toy Story 3 into the DVD player to watch again. It was another gift from Santa.
Courtney went to daycare yesterday and today to play with her friends and take a nap. She doesn't seem to ever nap at home! She had mom time last night and we watched her new movie, which is Barbie Fairytopia Mermaidia. This Christmas was very Barbie and princess oriented with a splash of Dora and Hello Kitty. She loves all of those characters.
Now that I've spent a little time bringing the photo album back up and writing this post, I better get going at doing something more productive with my day off!
Leave a Reply
You must be logged in to post a comment.