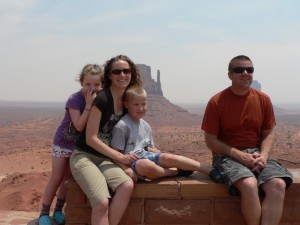 Whooooosh! Another year is quickly on its way out. If you haven't been following along with our life on Facebook, where have you been? Just kidding! I try to keep it entertaining over there and I'm not much for writing these snazzy letters anyway. But just in case you came looking for more, here it is!
We managed to spend most of the winter at the ski hill, including weekends and many nights after work and school. I became a pro at packing and unpacking those bags while the kids rolled into bed. Both kids got to ski at Brighton while we were Utah. I was surprised to find out after the lesson that the instructors had teamed up and taken Bode and Courtney over to a double black diamond. We're all looking forward to that trip again.
Both kids moved up to swim team earlier this year and are spending countless hours in the pool. I'm writing this as they swim laps back and forth. They are by far better swimmers than I am. When not in the pool, Courtney has spent most of the year playing hockey. It keeps her busy and active.
Did you hear that Aaron skated a marathon and a half? That's 39.3 miles on inline skates in 1 morning. I think he's a little bit crazy, but he did it and then he signed up again. Even after skating a half marathon first and being a few months out of foot surgery, he still beat my time for the marathon. Guess I'll have to work harder next year, especially since I know he intends to also! I'm hoping for a tailwind. 🙂 We're hoping that more of our friends will join us too.
There was a hunting season, but it got cut a bit short with Aaron being sent to Taiwan for work. They tell me hunting isn't all killing. There's always next year to fill the freezer full of meat. This year the freezer ended up full with the bounty of our garden and some apple trees. It was Aaron and not me that got the trip to the emergency room this year. Our track record with gardening and knives isn't good. Nobody warned me that it was this dangerous! We're set to do it again next year, but if I don't have to can anything until August or September, that will be just fine.
Lots of other stuff happened during the year. Fun stuff. Exciting stuff. Vacation stuff. Mundane stuff. Work stuff. Family stuff. Travel stuff. Dog stuff. Camping stuff. Kid stuff. Stuff stuff. Stuffed! I'm just happy to be able to do the things we do.
Looking forward to doing lots more of the same in 2014. We hope you join us.
Wishing you and your family a Merry Christmas and a wonderful new year…
Johanna, Aaron, Bode, Courtney & Sky