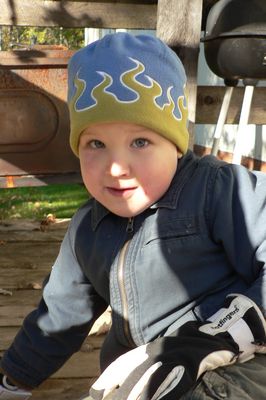 After about a month break from hanging out at our camper home, we were back.  As a result, more pictures!  Cool temperatures and very few bugs made for an enjoyable weekend.  Bode and Courtney enjoyed playing in the leaves.  Even Wednesday found the pile of leaves to be a cushy bed.  Bode especially liked the pink leaves.
What were we doing in between?  I came up and visited the camper briefly a few weeks ago as I went up to Duluth to skate in the NorthShore Inline Marathon.  I did that with some friends and had a good time.  I finished in under two hours, which was my goal, and made me happy.  We also spent a couple Saturdays doing ski patrol stuff and Aaron managed to get a few skydives in.  The kids have made a couple trips over to grandma and grandpa's house and have gotten to spend time with their aunts and uncles (young and old). 
Bode started school again in September.  He's happy to go and ride the bus again.  He goes to daycare in the morning, gets picked up on the bus after lunch, goes to school, and then the bus brings him back to the daycare.  He's usually having fun playing at daycare and doesn't want to go home when we get there.  That's good and bad.  Courtney is learning more and more words all the time.  She can tell us when she's soiled her diaper and requests a change.  That's nice, but I wish she would figure out the potty training thing.