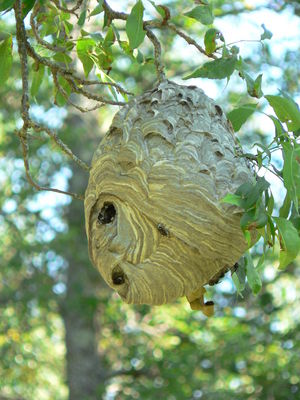 Bode found this hanging in the tree near our outhouse.  If you look closely, you can tell that it is active.  Aaron got stung once, but luckily nobody else did.  Bode started calling it a "bee five", which was pretty cute.  After watching the Simpsons Movie for a while on Saturday night, Bode asked the next morning whether we were going to put the bee five in a mailbox.  Apparently Homer puts a beehive in Flanders' mailbox in the movie!  Don't worry.  We didn't put the beehive into any mailboxes.
We had a good weekend with a campfire on Saturday night with Brent, Danielle, and the kids.  They loved toasting marshmallows.  On Sunday we went into Moose Lake for a while and hung out in and by the lake with Auntie Babe.  I put some pictures into the photo album of Bode by the water.
Both kids seem obsessed with poop lately.  Bode talks about poop and butts waaaay too much.  I think it's the age.  A recent visit with Uncle Jon (age 5) seems to have encouraged it even more.  Courtney's change is a good one.  She decided over the weekend to start telling us when she had poop in her diaper.  When she starts saying poop, her diaper is usually dirty.  I am so glad she can tell me that.  She kind of has an idea of what to do on the potty, but we're not there yet.  Check out the photo gallery to see what she's learned to do in the woods.