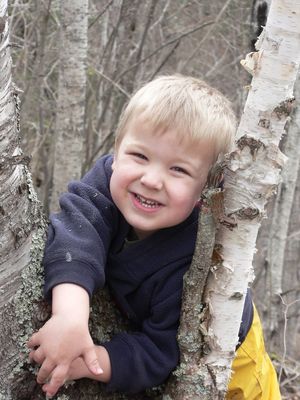 Bode has been asking to go to the land for weeks.  He loves wandering around outside and staying in our camper home.  Last weekend we took the kids up for a couple days.  We had a good time despite (or maybe because of) the mud.  It definitely was soggy up there.  Bode and I went for a long walk in the woods and stomped on the little pockets of snow that were left.  Courtney rode in the backpack carrier and enjoyed the effortless ride.  When I asked her how she was doing, she said "ga", which sounded like "good" to me.  She kept responding like that every time I asked.
Bode spent most of the weekend outside walking around.  The rubber pants and boots were immensely helpful as he fell in the mud and several puddles.  On Saturday Bode went with Dad and Uncle Bill to haul junk to the salvage yard in Pine City.  He enjoyed watching the big machines move the junk around and getting to have ice cream at Dairy Queen.  Courtney and I enjoyed a nap in the camper.  The dogs enjoyed running around outside all day long.
Now we're back.  Mounds of muddy laundry await.  Swimming class is tomorrow.  Bode is excited to go.  Last week he listened very well and tried to do the activities.  He loves being in the pool.  Maybe Courtney will enjoy it more this time.  We can hope!