This year we decided to try something new.  We booked a trip to Florida with the kids for Christmas.  With no destination in particular in mind, we ended up in Indian Shores, a town along the shore between Clearwater and St Petersburg.  We stayed in a 1 bedroom condo at the Barefoot Beach Resort which was across the street from a beautiful beach.  We had a great time relaxing and enjoying the warm weather.  It was 85 degrees when we left!
The vacation had an interesting start.  On Saturday morning, we got the dogs to the kennel and were finishing up last minute details before heading to the airport when we realized that our flight was on Sunday!  Oops.  A day early is better than a day late and at least we realized before leaving for Minneapolis!  We laughed hard on this one and then called a babysitter and headed to ski patrol for the night since we weren't gone yet.  We thought maybe Sunday was going to have better weather for a flight out, but we were wrong.  The drive to the airport was super windy and snowy with white-out conditions at times.  We got there with plenty of time, especially considering the flights were all being delayed.  Nothing was going in and out of the airport.  Eventually we got on our flight, but we knew we wouldn't make our connection at the Dallas Fort Worth airport to get to Tampa.  We had anticipated arriving in Tampa at 12:30 AM but ended up arriving in Dallas at 12:00 AM with a flight to Tampa arranged for 6:25 AM.  We debated going to a hotel for those few hours or to stay at the airport.  Given the limited time, we  chose to stay at the airport.  We grabbed a couple cots and some blankets and tried to get the kids some sleep.  Bode settled in after a while, but Courtney had napped on the flight and was happily playing until nearly 3:00 AM when I finally strolled her to sleep.
Our flight in the morning went smoothly, but we found that 2 of our bags didn't make it to Tampa with us.  They were still in Dallas and would be arriving on a later flight and be delivered.  Luckily the car seats made it.  Aaron's clothes and some of Courtney's were in the suitcase we had.  We picked up our rental car, a new Taurus X with 6 miles on it, and headed to the resort to check in.  We then headed out to pick up some supplies (a swimsuit for Bode, sunscreen, underwear, some Christmas presents and food).  We also picked up a pack 'n' play at Kmart since it was going to cost $75 to rent one for the week.  That's crazy.  We bought a brand new one for $39. 
Our luggage didn't arrive until after dinner.  Bode had no clothes to wear and was eating in just his underwear.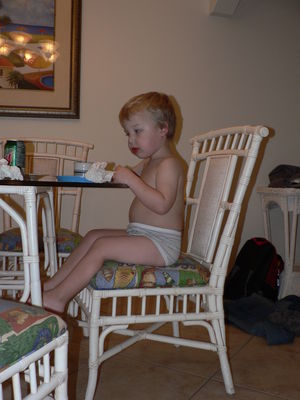 We got back and hit the beach.  It was nice. Soft sand…like powdered sugar.  Over the next couple of days we went to the beach, to the pool, back to the beach, a couple naps here and there and back to the beach and then maybe to the pool.  Bode absolutely loved going to the beach and playing in the sand.  Mostly we went to the beach area across the street.  We did venture further north and south to check out the beaches in Clearwater and St Petersburg.  They were very similar.  On the last day we had to be checked out of the resort by 10 am but didn't have a flight out until 7 pm.  We decided to head north to Honeymoon Island state park.  Courtney got a short nap in on the way and we went to the beach there.  It was mostly the same, but we liked this beach better.  There were no resorts lining it…just palm trees and nature.  We had lunch at a picnic table and a seagull swooped in and stole Bode's sandwich.  He got sad, but at least it wasn't the cheetos getting taken!  We stopped by the nature center and saw some interesting displays about tortoises and other wildlife and how the island came to be.  We also saw a group of baby sharks in the shallow water nearby.  We weren't in the water there.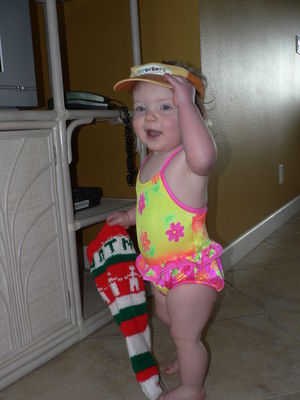 Christmas morning was low key and fun.  We had stockings and opened presents and then headed to the beach!  Lunch was leftover pizza and sandwiches, but we had a nice steak dinner later in the day.
Given all of the excitement getting to Florida, our trip back was rather uneventful.  We had a planned layover in St Louis due to frequent flyer mile availability for travel.  We had a room at the St Louis Airport Marriott booked.  It was a super quick shuttle ride over there.  The first thing Bode noticed when we got to the room was that it didn't have a kitchen!  We ordered a pizza from room service and the kids got complimentary meals, which they ate voraciously.  It was a nice place to stay.  The night of sleep was way better than staying on a cot at an airport!  We made it home.  No more flights with Courtney on the lap.  She's a wiggler and will definitely do better if strapped into her car seat. 
Aaron already asked on the way home about where we should go for Christmas next year.  Mexico?
I added lots of pictures over in the photo gallery.