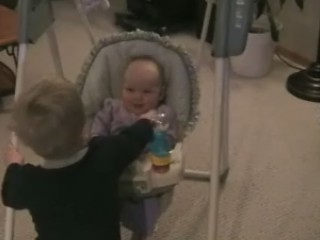 We bought a digital camcorder back when Bode was an infant.  We took a few videos, but then ended up chasing him around with the still camera instead.  I decided the other day that it was terrible that we weren't using it and recording the cute moments with the kids.  Even if we messed up for Bode's first couple years, we still had a chance with Courtney.  So, I started recording the kids in the morning when we had some extra time.  That led me to motivate on doing something with the recordings rather than having it just on the mini-dv tape.  I wanted the clips on my computer and then wanted to put them on DVD.  So, I got out the manual and found that it wasn't as simple as buying the cable to connect to my computer.  I needed to buy an extra card to add to my computer for the connection.  $92 later, I have what I wanted!  I haven't burned anything to DVD yet, but that equipment is sitting and waiting for me already. 
I've only spent a moment trying out the built-in software to pull the video into little movie clips.  I'm sure that is one more thing to use up time I probably don't have.  Anyway, here's the first clip!!  While I was making breakfast last week, Bode started tickling Courtney.  She was giggling at him.  Such a cute moment.  I had to sneak in with the camcorder.
Since I got started with one, it was easy to add another.  Here's a clip that I'm calling "Good morning Bode".  I've added a videos page to the site and will be adding more videos there as we go along.